CHAMP Resources
Evidence-based, free and available anytime, CHAMP's resources can help you improve home care quality now! CHAMP's new toolkits organize tools in one place, making it easy to find what you're looking for. Check out our three toolkits on the following topics.
Geriatric Falls Prevention Toolkit
Geriatric Medication Management Toolkit
Geriatric Care Transitions Toolkit
e-Presentations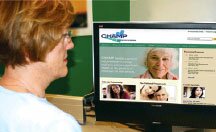 CHAMP's e-Presentations make evidence-based best practices and tools available on your computer desktop. Click below to watch one now!

Improving Communication with Physicians
Developing Strong Home Care Teams
Click here to see all CHAMP's e-presentations.